Solutions to simplify operations
Trust that moves business
Our mission is your peace of mind. May your production chain never stop thanks to our comprehensive logistics services that will always have your merchandise on time.
We want to be your logistics partner!
Leading the logistics transformation
Grupo TSM is a 100% Mexican company with more than 30 years of experience at your service. We offer comprehensive services through our own transport network and infrastructure. We have terminals and offices in the most important logistics points within the Mexican Republic.
Grupo TSM, is a logistics group made up of: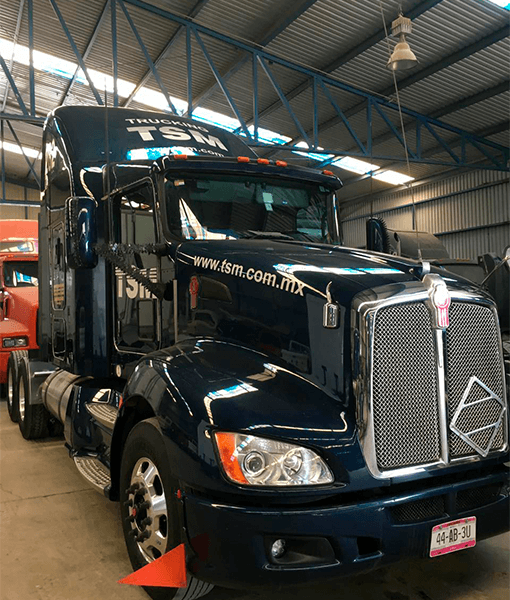 We put at your disposal the best integral logistics of your products with a single supplier and efficiency in time.
EFFICIENCY FOR YOUR BUSINESS
Logistic solutions for each sector
We adapt our logistics services to the type of merchandise you need to transport. We have state-of-the-art technical resources and a highly qualified human team to make the logistics process a success. Your merchandise will be in the best hands, from your door to that of your customers.
Where can we take the merchandise?
Our base is located in Nuevo Laredo Tamaulipas and we cover national and international transport routes in the service mode you request. We define the best routes for your merchandise to arrive on time.
We have a direct patent, we are experts in handling chemical, pharmaceutical and automotive products. We have terminals and offices in Querétaro, Nuevo Laredo, Texas and in Mexico City.
Our transportation division has extensive experience in the national and international cargo transfer. We have a fleet modern and diverse range of trucks and trailers, which allows us to adapt to the specific needs of each of our clients. Besides, We have terminals and offices in strategic locations for provide an agile, safe and reliable transport service in Mexico, United States and Canada.such as Mexico City, Guadalajara.
Uninet Forwarding (Laredo, Texas)
In our Forwarding division in Texas we offer services storage, labeling, reception and dispatch of merchandise in our 100,000+ square foot warehouse. we have hazmat control and inventory system updated in real time to guarantee the safety and visibility of your products. Simplify your logistics operations with us.
Our logistics infrastructure
Our company has its own infrastructure network strategically located at key points for logistics and transportation in Mexico and the United States. With terminals and offices in Laredo, Texas; Nuevo Laredo, Tamaulipas; Tepotzotlán and Querétaro, we are in a privileged position to provide comprehensive logistics and transportation services to our clients in both regions. This proprietary network allows us to have total control over our operations and guarantee efficiency and safety in the handling of our clients' cargo. Trust us to manage your logistics operations and take advantage of our own infrastructure network.
We want to be your logistics partner in Mexico and the United States. What do you need to transport? We carry it.